If there's a black screen on your Steam Deck™, or it just won't turn on, it can feel like game over for your device. But with some quick troubleshooting, you'll be playing God of War™ in no time and uncovering every side quest and secret boss—like the secret boss that you are.
At Asurion, we take care of your tech problems so you can enjoy the devices that run your world. Here's what our experts say about fixing a Steam Deck that won't turn on.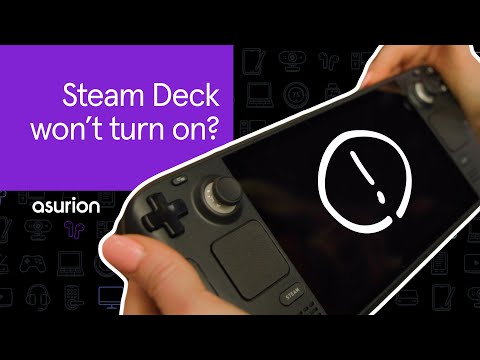 What's wrong with my Steam Deck and how do I fix it?
There are a few common reasons why your Steam Deck won't turn on or is showing a black screen. They include:
A dead battery.
A worn-out charging cable.
A recent software update(or the lack of a recent update)might be causing a glitch.
A stuck power button.
Make sense? Now, let's dive into how to troubleshoot each problem.
Force your Steam Deck to restart
One of the cool things about your Steam Deck is that you can be playing a game on your PC and then easily switch over to your console to finish it out. Both devices share a game library and run compatible software, but you need to update that software regularly to make sure everything works properly.
Those updates should happen automatically when your device goes to sleep. But if they don't, you can force your Steam Deck to restart, and it should update, clear your console of any glitches, and solve your problem.
Device won't power on? We can help
We'll do a free device diagnostic to find out what's wrong—visit your local store or schedule a repair.
Here's how to force your Steam Deck to restart:
Press and hold the Power button for 12 seconds to force the console to power off.
Press the Power button to turn the console back on.
Allow your Steam Deck to charge
If your Steam Deck has a battery that's too low, your console may show you a blank screen. If that's the case, the best thing to do is connect the Steam Deck to its charger.
Check the charger for any damage and give your Steam Deck at least 1 hour to charge before trying to turn it on again. You'll know the console is charging when the LED battery lights up.
Try a different charger
We recommend using the charger that came with your Steam Deck; doing so can help extend the life of the device. But you can use any USB-C charger to see if the charger is your problem.
You may also want to swap out the charging cable and try another wall outlet. Allow at least one hour for the Steam Deck to charge before trying to turn it on again.
Check to see whether the power button is stuck
If you notice that there is no click or feedback when you press the power button, that means it's probably stuck. The reason can be anything from a manufacturer's mistake to recent wear and tear.