It's VR game night, and you only have one headset. Spare your friends from having to watch you play Resident Evil® solo. Instead, include them in the action by casting your Oculus® to your TV. It lets them see what you're doing—so you don't have to explain why you were awkwardly punching the air after the game ends.
At Asurion, we don't just protect your tech, we show you how to get the most out of it. Here's how to cast your Oculus to your TV.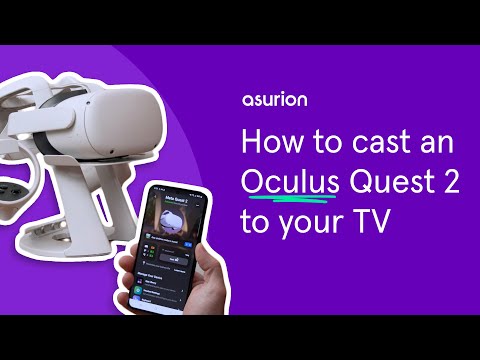 How to cast your Oculus Quest 2 to your TV with your headset
To cast your Oculus Quest® to a TV, you'll need the headset, a TV with Google Chromecast built-in, or a TV with a Chromecast™ streaming device connected. You'll also want the headset and the TV to be connected to the same Wi-Fi network, so they can find each other.
The easiest way to cast is directly from the headset. Here's how to get connected:
Press the Oculus button on the right-hand controller to bring up the home menu.
Click the Camera icon, then select Cast.
Select the device you want to cast to from, then click Next.
How to cast your Oculus Quest 2 to your phone
No TV nearby? The Meta Quest™ app can help you cast the Oculus to your phone or tablet. Both your phone and your Oculus need to be connected to the same network or else they won't appear as a pairing option.
Once they're connected to the network, follow these simple steps:
Open the Meta Quest app on your phone, and tap the Cast icon (it looks like a gaming controller combined with a Wi-Fi symbol).
If this is your first time casting, you may be prompted to update your permissions. If so, tap Allow to scan for other devices on the network.
Select the device > Start.
Our experts have seen it all
Sign up for Asurion Home+ and get 24/7 tech support and device protection—all in one plan.
How to cast your Oculus Quest 2 to your PC
Sometimes your best option is your laptop or desktop computer. You can cast from either.
Using Chrome®, go to the Meta Oculus casting page and log in to your account.
Turn on the headset, and press the Oculus button on your controller to open the home menu.
Select Camera > Cast > Computer > Next. Then give it a few seconds to connect.
How to cast your Oculus Quest 2 to a TV without Chromecast
If your TV doesn't have Chromecast and you don't have the streaming device attached, you still have options. We'll walk you through them.
Cast your Oculus Quest 2 to a Roku TV
At this time, Roku® doesn't support Oculus' Smartcast feature, but there is a simple workaround: opening the Meta Quest app on your phone and then mirroring your phone to your Roku TV. After you've made sure your TV, mobile device and headset are all on the same Wi-Fi network, follow these steps for how to cast your phone to your TV.
Cast your Oculus Quest 2 to Fire TV and Fire Stick
Amazon™ streaming devices don't come with Chromecast built in, but there are work-arounds if you really want to cast to your TV.
You'll need to download a third-party app, like AirScreen, to cast your Oculus to Fire TV™ or Fire Stick. Once you have one downloaded, follow these steps:
Open the AirScreen app and follow the prompts onscreen.
Turn on the Oculus and give the headset and the Amazon streaming device a few minutes to sync if they don't immediately appear.
On the headset, click the Camera icon from home menus.
Select Cast, then from the list of Available Devices, select the ID that matches the AirScreen app on your TV. Then, click Next.
How to stop casting from your Oculus Quest
When it's time to stop casting from the headset, open the main menu and click Camera > Casting > Stop Casting.
Don't let a glitched controller mean game over
The Asurion Home+ protection plan offers peace of mind for all of your eligible home tech, including your favorite gaming systems, for less than $1 per day. From graphical glitches to faulty drives, we cover your video game console and original controller from the unexpected breakdown—no matter where or when you purchased it. Learn more at asurion.com/homeplus.