You don't need the internet to use your PlayStation® 5—there are plenty of amazing games you can run on disks alone. But an internet connection does allow you to access a wider library of games, play against your friends online, download important security patches, and buy bonus content. So when your PS5® won't connect to Wi-Fi, you're missing out.
Don't worry, we'll get you back up and running online. At Asurion, we help millions of people troubleshoot and fix their tech, keeping the devices you rely on most working all day, every day. Here's how to fix a PS5 that won't connect to Wi-Fi.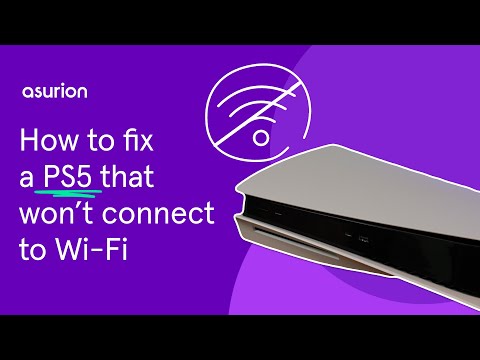 Reasons your PS5 isn't connecting to Wi-Fi
There are a few reasons your PlayStation 5 isn't connecting to Wi-Fi. We'll walk you through some of the most common ones.
Your wireless internet is down
This is the most common reason your PS5 isn't connecting to the internet, and usually the easiest to troubleshoot.
The PlayStation Network isn't working
The PlayStation Network (PSN) is Sony's online gaming service. If you notice you can access online features within games outside of that network, the problem might be that the PSN servers are down. You can keep up with the service status of PlayStation Network on the Sony® website.
Your PlayStation connection to the server may have timed out
When you're trying to sign in or connect to the PlayStation Network, you might get an error message that says your connection to the server has timed out. You'll often see this when the PSN servers are having trouble communicating with your console—typically after spending some time waiting for the screen to load or change.
Our experts have seen it all
Sign up for Asurion Home+ and get 24/7 tech support and device protection—all in one plan.
How to troubleshoot a PS5 that's not connecting to the internet
As frustrating as it can be when you can't connect to the internet, there are a few simple steps that can quickly get you back in the game.
Double-check your Wi-Fi network and password
If your network name and password are incorrect, you won't be able to connect to the web. The default name and password should be on the back of your router. If you've changed them, which we recommend, try plugging both in again on your PS5 to make sure they're correct.
Run a network connection test
Still having trouble? Run a network connection test on the console. This will check your internet connection and help you determine where the problem lies. Here's how:
Go to Settings.
Select Network.
Select Connection Status > Test Internet Connection.
Move your console closer to the router
In some cases, the signal from your router might not be strong enough to connect to your PS5. To get the best connection, try moving your console as close as possible to the modem or router.
Restart your PlayStation
Doing so will clear old data and force it to try and reconnect to your Wi-Fi network.
To restart your PlayStation, press the PS button on the controller, select the power icon, then select Restart PS5. Now try connecting to Wi-Fi again.
Restart your router
A simple restart can resolve any connection trouble on the router's end. Restart both your router and modem (sometimes they're two separate pieces, but often they're combined in one device) by turning them off, waiting for 30 seconds, and then turning them back on.
Factory reset your PS5
If your PlayStation still won't connect to Wi-Fi, you may have to factory reset it. Doing so will delete your game files and restore your console back to factory default settings. Before you start the process, make sure to back up those files using PlayStation Plus cloud storage or an external drive.
Backing up to the PlayStation Plus cloud storage requires an internet connection—be sure to connect your PS5 to your router using an Ethernet cable. If you can't use an Ethernet connection, opt for backing up with an external drive instead.
Back up using PlayStation Plus cloud:
Go to Settings > Saved Data and Game/App Settings.
Select Saved Data.
Select Console Storage, select a game, then select Upload to Cloud Storage.
Back Up using an external drive:
Connect your USB drive to the port on either the front or back of your console.
From the home screen, select Settings > System.
Select System Software > Back Up and Restore > Back Up Your PS5.
Select the item you want to back up, then select Next. The file name and file size will appear, then you'll select Back Up.
Your console will restart and start the back up. When Backup complete appears on screen, select OK. Your console will restart.
Ready for that factory reset? Follow these simple steps:
Open Settings.
Select System > Reset Options > Reset your console.
Select Reset.
Don't let a glitched controller mean game over
The Asurion Home+® protection plan offers peace of mind for all of your eligible home tech, including your favorite gaming systems, for less than $1 per day. From graphical glitches to faulty drives, we cover your video game console and original controller from the unexpected breakdown—no matter where or when you purchased it. Learn more at asurion.com/homeplus/.