Imagine playing your favorite PlayStation® games while waiting at the airport or getting a haircut. Using the Bluetooth® feature on your iPhone®, you can do just that by pairing it to your DualShock® 4 wireless controller. But how?
At Asurion, we help people find solutions to questions like this every day, and when tech breaks, we fix it—from completing a controller reset to fixing multiplayer lag. Here's our experts' guide on connecting your PS4™ controller to your iPhone, so you can play Call of Duty® on the go.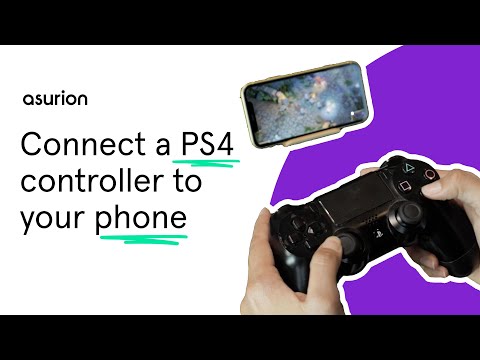 How do I play PS4 games on my iPhone?
You don't need to be near your PS4 console to play your favorite games. With the PS Remote Play app, you can play right from your iPhone, no matter where you are. It's just like playing at home—except instead of connecting your DualShock 4 controller to your console, you just connect it to your phone.
How to pair your PS4 wireless controller to your iPhone
To do this, you'll need a PlayStation DualShock 4 wireless controller and an iPhone running iOS® 13 or later. If you're unsure which operating system you have or how to update it, contact one of our experts or visit your nearest uBreakiFix® by Asurion or Asurion Tech Repair & Solutions™ store.
Here's how to pair your DualShock 4 wireless controller to your iPhone:
Press and hold both the Share button and the PS button on your controller to put it into pairing mode. Once pairing mode is active, the light on the back of the controller will start flashing.
On your iPhone, go to Settings > Bluetooth. Tap the Bluetooth switch to turn it on.
Tap the name of your wireless controller when it appears under Other Devices. Your iPhone and controller should now be paired.
To disconnect your DualShock 4 wireless controller, simply tap the name of your device under My Devices in your Bluetooth settings.
Why won't my PS4 wireless controller connect to my iPhone?
If you've tried the above steps and your wireless controller still won't connect to your iPhone, try these troubleshooting tips:
Check to see how many Bluetooth devices are currently paired to your iPhone. Ideally, you don't want to connect more than four devices at a time—more connections could cause communication problems.
Make sure your DualShock 4 wireless controller is fully charged. If not, charge your controller by plugging it into your PS4 console by using the USB cable it came with.
Try connecting your controller to another device like a PC or a friend's PlayStation to see if you experience similar issues. If so, there may be a problem with your device's wireless connectivity.
Still having issues?
If these troubleshooting tips don't work, your DualShock 4 wireless controller may be damaged.
If you suspect this is the case, stop by one of the nearest uBreakiFix® by Asurion and Asurion Tech Repair & Solutions™ stores to consult with one of our tech experts. We'll get you back up and running as soon as the same day.
Don't let a glitched controller mean game over
The Asurion Home+® protection plan offers peace of mind for all of your eligible home tech, including your favorite gaming systems, for less than $1 per day. From graphical glitches to faulty drives, we cover your video game console and original controller from the unexpected breakdown—no matter where or when you purchased it. Learn more at asurion.com/homeplus/.