Picture this: You're running late for coffee with friends, so you grab your phone and rush out the door. You wait in line and place your order. It's time to pay, but you realize your wallet was left at home. Doh.
Don't worry, it's happened to all of us. To avoid this scenario, use a payment app on your phone. Not sure what that is? Worried that payment apps aren't safe? We've got you covered.
At Asurion, we take care of you and your tech. Here's what you need to know about payment apps like PayPal®, Venmo®, and Apple Pay®, and how to keep these transactions secure.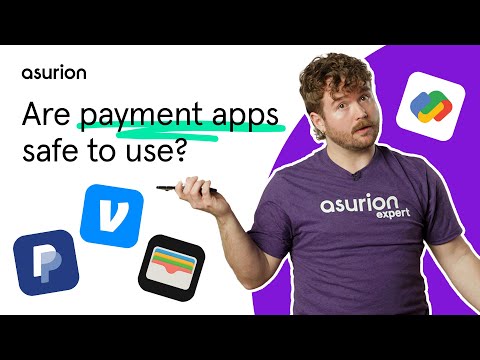 How do payment apps work?
You've probably seen someone pay at the grocery store by tapping their phone on the card reader. Or maybe your colleagues at work ask you to "Venmo $12 for lunch."
Both require you to use some form of payment app instead of a physical card. These apps work by securely linking your bank account or credit cards to the app, so you can use it when you need it—with or without your physical wallet.
Are payment apps safe to use?
Yes. They're very safe. In fact, you're more likely to have the number on your physical credit card stolen by a fake card reader at the gas pump than when you use a payment app.
The reason: Payment apps create a temporary card number for each transaction you make, so card readers never access your information. This technology helps make an app, like Apple Pay, safer than a credit card or a debit card.
If you ever lose your phone, those payment apps like Apple Pay require your phone's passcode, your fingerprint, or your face to pay for items, and often require one of those authentication methods to access your phone's digital wallet.
Venmo and PayPal also allow you to lock your account via their respective websites.
No matter the issue, our experts can repair your devices fast. Make an appointment or visit your local store today.
Settings you can change for greater security
The best thing you can do to keep your credit card information out of the wrong hands is to create a strong account password or PIN for your phone and for each app.
Once you've taken that critically important step, most secure payment apps have their own ways to protect your information and make your transactions even safer. We'll walk you through them for a few popular payment apps.
Apple Pay
With Apple Pay, all of your transactions are automatically private, but it does automatically store them onto your iCloud® account.
A strong password will keep that account secure. But if the idea of having your past transactions saved to the cloud feels risky, you can turn that setting off on your device by going to Settings > [your name] > iCloud and turning off Wallet.
Google Pay
With Google Pay™, your payment information is protected with layers of security and privacy settings. Unlike some other payment apps, you can choose to opt out of data sharing. You can create the perfect balance with custom settings like setting up purchase authentication, blocking certain users, and even how other app users find you. Here's how to get to those settings:
Open the Google Pay app.
Tap your profile picture or account icon.
Tap Settings > Privacy & security. Then tap each item to adjust your preferences.
Venmo
If you're new to Venmo, you might not know that your transactions—including to whom and for how much—are automatically public. This can send out a signal to potential thieves and fraudsters that want to use your information or worse, make fraudulent transactions within those apps .
We recommend that you make all of your transactions private. Here's how to update that setting:
Tap Me in the bottom right corner, then tap the Settings gear icon > Privacy.
Under Default Privacy Setting, tap Private.
Tap Past Transactions. You'll see the option to Change to Friends or Change All to Private.
PayPal
PayPal lets you link your account to your credit card as well as other sites and services, such as eBay®. This makes online shopping or sending money really easy.
On the other hand, it jeopardizes your privacy by allowing other sites to see and access your personal information. Follow these steps to control what sites are allowed to see your data:
Tap the account icon at the top-right.
Tap Data and Privacy.
Tap Permissions you've given, and click Update next to the item you'd like to review. You can remove any services that you no longer use or don't trust.