We've all received them — those calls that show up on your phone and look like legit, local numbers. You answer, thinking that it might be someone you know, only to find that it's a recorded message telling you that your car's extended warranty has expired—but you don't remember signing up for one in the first place. If you think this seems phishy, you're absolutely right. You've just experienced a robocall. And you're not alone.
What is a robocall?
Simply stated, if you answer your mobile device and hear a pre-recorded message instead of a human, that's what's known as a robocall. These automated phone calls are made by computers and typically come from telemarketers and political campaigns, though they may also come from real companies or be used for public service announcements and similar messages. Why does it seem like there are more robocalls now than ever before? Because today's automated system technology is advanced, with the capability of making 1,000s of calls in a matter of moments. According to YouMail, there were more than 4 billion robocalls placed in the U.S. during the month of August 2019 alone. The good news: The Federal Communications Commission (FCC) is cracking down on unwanted messages, working with major carriers to allow different ways to block spam calls for their customers.
How to stop spam calls on iPhone, Android
There are steps you can take right now to help stop unwanted calls in your life once and for all. Here are a few ways to stop spam calls on your iPhone and Android devices.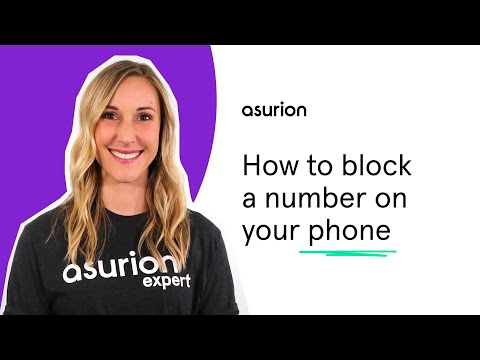 How to block a number on your iPhone
Go to the Phone app. Then, click on Recents.
Find the phone number or contact you'd like to block and tap the "i" icon next to it.
Then, scroll to the bottom of your screen and tap Block this Caller.
How to block a number on your Android
Open the Phone app, then click Recents.
From the list, tap on the phone number you'd like to block. Then, tap on the "i" icon underneath.
Now, click on Block Number. And you're all done!
Tech help at your fingertips
Get your tech questions answered now with our live expert support.
How to add your number to the Do Not Call list
One method to help cut down on spam calls is to add your mobile phone number to the National Do Not Call Registry. Once you're on the list, it will take around 4-6 weeks before fewer robocalls reach your phone. While the do not call list does help decrease the volume of unwanted calls, it will not prevent calls from legitimate companies like charities, government agencies, political organizations or your doctor's office. You'll need to opt out of those calls individually or block them on your device.
How to Silence Unknown Callers on your iPhone
Your iPhone has made it even easier to combat spam calls with its built-in call filtering feature.
To turn on Silence Unknown Callers in iOS 17:
Open Settings, and tap Phone.
Tap Silence Unknown Callers.
Tap the switch to turn the feature on. The switch will turn green when enabled.
Now, your iPhone will allow any number that is found in your Contact List, Messages or Mail to ring through. If it's not a recognized number, whether it's a real or an unknown number, the call will be sent directly to your voicemail without ringing.
While the Silence Unknown Callers feature will undoubtedly cut down on the number of spam calls you receive, there is a potential downside. If you're waiting for a call back from a service person, you may miss that call due to it being filtered to your voicemail. If you want to disable the feature, it's as easy as following the same steps and toggling off.
Download a third-party app to stop robocalls
Fight back against the bots. The best app for you will depend on a few different factors. First off, check with your mobile phone carrier. AT&T and Verizon, for example, offer free services that help to block unsolicited calls that you can take advantage of.
Nomorobo
If you're willing to pay a few dollars a month to combat unwanted robocalls, there are apps that offer more premium call blocking services like Nomorobo. Nomorobo, available for both iOS and Android, blocks spam calls and adds them to the blacklist, while intelligently filtering to allow important messages like calls from your child's school or your pharmacy to still come through.
Hiya
There are a few free robocall app options that offer basic solutions, like Hiya. With spam alerts and illegal robocall blocking, Hiya helps to give you more information about who is calling your cell phone and kicks the unwanted contacts to the curb.
While the promise of a free cruise from a phone recording may sound amazing, unfortunately, these scam calls are nothing more than attempts to acquire your private information. If you answer the phone, the number one rule is to not assume that the robot (or person) on the other side of the call is telling the truth and never give away info like your credit card details. Ask questions to help determine the legitimacy of the caller and if you have any doubts at all, hang up.