Here's a housewarming idea: Automate your new home with some of the latest internet-connected gadgets—from smart TVs and light bulbs to security cameras and video doorbells. All can make your life more convenient by allowing you to control your favorite devices with simple voice commands.
At Asurion, we not only fix and protect your tech but also help you set it up as well. Here's our guide to the best gadgets to help make your new house a smart home.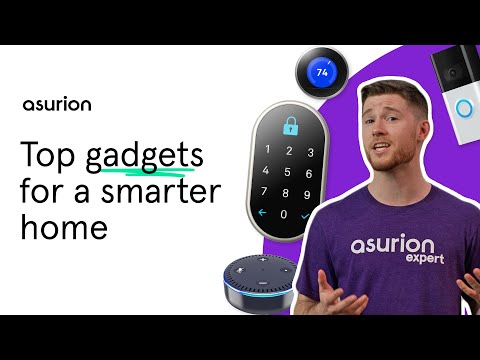 Choose your smart hub
Every smart home begins with a smart home hub. This device is the brain of the operation, connecting to and communicating with all your other gadgets over Wi-Fi. Cool, right?
What's even cooler is that each hub comes with a virtual assistant that allows you to control your home with simple voice commands. Amazon® uses Alexa™, Google® has Google Assistant™, and Apple® uses Siri®.
Wondering which one to choose? Check out our guide to Google Home Hub vs. Amazon Echo®.
Just remember, not all smart gadgets for home work well together—at least not yet—so make sure you consider what you already own before you throw a new gadget in your shopping cart.
Give your smart hub a sound boost
If you're using your hub mostly for music, consider a smart speaker with excellent sound quality, such as the Sonos® One Generation 2 or the Amazon Echo Studio. If you buy multiple smart speakers, you can play the same music throughout the house or even create a new vibe in every room.
Put your smart home gadgets on display
Another type of hub to consider: a smart display, like the Amazon Echo Show 10 or the Google Nest Hub Max™. Besides the smart speaker, these hubs feature a touch screen that everyone in your home can use to control your other smart devices—from watching live feeds from your security camera to turning on the screen of your digital photo frame.
Calculate your smart devices, bust common myths, and explore tips from your neighborhood tech experts.
Make your appliances smarter with smart plugs
A smart plug is a simple way to automate the wired devices and appliances in your home. To set one up, just plug it into an outlet and then connect it to your Wi-Fi network by following the directions in an app on your phone or tablet. Next, plug a wired appliance, like a lamp or a fan, into your smart plug, and you'll now be able to control them on your phone—or via voice command if you have a hub—from wherever you are.
Popular options include the Wemo™ Smart Plug, the Kasa Smart™ Wi-Fi Plug, and the Amazon Smart Plug.
Stay safe with smart home security
Internet-connected home security companies like Ring™ and Arlo® offer smart security devices—from locks to cameras. These gadgets allow you to keep an eye on your home from anywhere.
The line of video doorbells from Ring, for example, notifies you when someone is at your door and lets you check in over live video via an app. The app also offers two-way audio, so you can speak to guests (and shoo away unwanted visitors) without having to be in your house.
Want to control your front door from anywhere? A smart lock allows you to lock and unlock your door using your phone or smartwatch. If you're looking for a smart lock that's easy to install and that works with Alexa, Google, and HomeKit® (for Apple® products), among other hubs, check out well-designed locks like the August Smart Lock® Pro or the Ultraloq® U-Bolt Pro.
Just remember, not all smart home devices work well together—at least not yet—so make sure you consider what you already own before you throw a new gadget in your shopping cart. For more info, check out our guide to must-have smart home security systems.
Save energy with a smart thermostat
How'd you like to lower your utility bill? With smart thermostats, such as the Ecobee™ and Nest™, you can adjust the temperature in your home with your phone or with a simple voice command (assuming you have a smart home hub). Smart thermostats can also automatically heat or cool your home based on outside temperatures.
For more tips, check out our list of ways to save money and electricity with the help of smart devices.
Light up your new home with smart bulbs and light switches
Say goodbye to walking into a dark house late at night. With smart bulbs and smart light switches, you can use an app or your hub to schedule when you want your lights to turn on. Doing so isn't only energy-efficient, it can protect your home by turning on lights to make it look like you're inside.
Check out brands like Phillips® Hue™ and Kasa®, which offer a variety of bulbs and switches to choose from.
Let a smart vacuum do your dirty work
These devices aren't quite like the robot maid from The Jetsons, but they do help you work smarter—not harder—in your new home. If you want a quality model with a long-lasting battery that can sweep, vacuum, mop, empty its own dustbin, and dry its own mop cloth, as well as give you a robot's-eye view with a built-in camera, take a look at the Ecovacs® Deebot X1 Omni or the Roborock S7 MaxV Ultra.
Looking for something more affordable? Check out vacuums like the iRobot® Roomba® 675 or the basic iLife® A9 Robot vacuum cleaner.
Make sure your smart home is protected
An Asurion Home+ plan provides coverage for nearly all the technology in your home with one simple plan. Laptops, tablets, TVs, gaming consoles, smart thermostats, and so much more—even future purchases. Plus, you'll get 24/7 live expert support and robust digital security. Learn more about Asurion Home+ coverage and how you can get peace-of-mind electronics protection.