Think of all the hours you've spent on your Oculus® VR headset: the games you've played, the bad guys you've beaten, the levels you've leapfrogged. Now imagine you try and troubleshoot your headset and—poof—you shred your saved games and settings.
Sadly, these types of accidents happen, especially when you're trying to factory reset your device. But don't worry, that's why we're here.
At Asurion, we help you take care of the devices you love, so you can relax. Here's how to factory reset the Oculus Quest® 2 and Oculus Quest—without permanently deleting your data.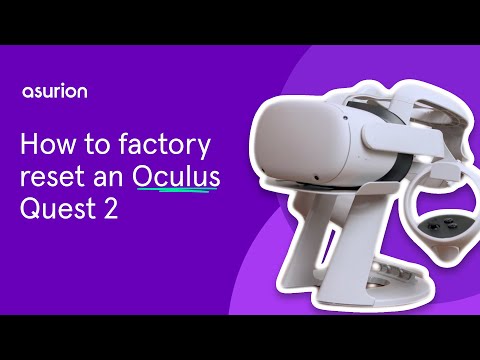 What happens when you factory reset your Oculus
If you don't back up your headset, a factory reset will permanently delete all the saved games and settings on your device. Deleting this information can be useful if you're trying to sell your headset and don't want the buyer to have access to your personal data. But it's also why a factory reset should be your last resort if you're struggling to troubleshoot your Oculus Quest or Oculus Quest 2.
If your console stops working, we'll handle the repairs. Make an appointment, or visit your nearest store today.
How to restart your Oculus without losing data
You can restart the headset without the risk of losing games or saved data by pressing the Power button and selecting Restart while the headset is on. This is helpful if your headset is frozen or you're just starting to troubleshoot your device.
If you do need to factory reset your device, make sure you save your game data first and then back it up to the cloud. That's the best way to avoid permanently losing your data. Here's how to do it:
With the headset on, hover over the clock on the left side of the menu. Tap Quick Settings to access the Quick Settings panel.
Tap Settings.
Select System, then Backup.
Tap the switch next to Cloud Backup to turn it on.
How to factory reset your Oculus Quest and Oculus Quest 2
There are two ways to factory reset your Oculus Quest and Oculus Quest 2—with the headset and with the Meta Quest app. We'll walk you through both options.
How to factory reset your Oculus using the headset
Press and hold the Power and Volume Down buttons until your Oculus turns on.
From the USB Update Mode menu, use the volume buttons to navigate the menu and select Factory reset.
Select Yes, erase and factory reset.
How to factory reset the Oculus using the Meta Quest app
Open the Meta Quest™ app.
Tap Devices, and select your Oculus Quest.
Tap Advanced Settings > Factory Reset > Reset.
Virtual reality doesn't have to glitch
Protect your VR headset—plus all your other favorite home tech—for less than $1 per day with Asurion Home+®, and get fast repairs and support from trusted experts when you need them. Learn more about Asurion Home+® coverage and how you can get peace-of-mind device protection.