Does your MacBook® keep freezing? Do web pages take forever to load? Are your apps crashing too? These are all signs that your MacBook is running slow. But before you buy extra random-access memory (RAM) or invest in a new computer, there are several fixes you should try.
Here at Asurion, we teach you how to keep the devices you rely on most working smoothly every day. Check out our tips to help you figure out the cause behind your computer slowdown plus ways to speed up your MacBook.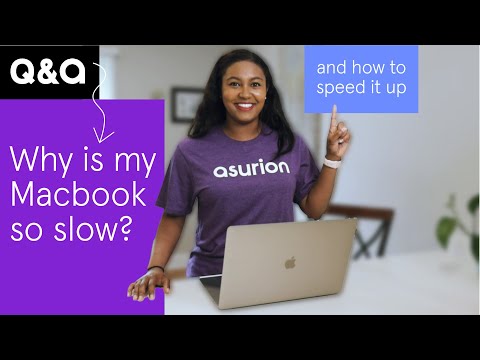 Why your MacBook is slow
There are several reasons your MacBook Pro® or MacBook Air® might be running slow. Common ones include:
Not enough free disk space on the startup disk.
An out-of-date operating system.
A slow internet connection.
Too many apps running at the same time.
We'll walk you through how to figure out the right culprit—and what you can do to speed up your MacBook.
You haven't restarted your computer in a while
If your MacBook is slow, try a simple restart. Computers aren't meant to run all day, every day. So if it's been a while since you last restarted your device, follow these steps:
Click the Apple® menu in the top-left corner of your screen.
Choose Restart. You'll be given the option to automatically reopen your current browser tabs and apps once you restart your device. In this case, don't select it. Just make sure you've saved everything first.
In the future, try to restart your laptop once a week. It'll clear temporary files and shut down programs, which can help stop problems before they start.
You have a slow internet connection
If your computer is running slow, check your Wi-Fi to make sure you have a fast, reliable connection. For step-by-step instructions on how to check the Wi-Fi speed in your home—and to learn ways to improve your signal—check out our guide to boosting your Wi-Fi speed.
You can't work when your laptop doesn't want to
Get it repaired fast at one of our stores. Just stop in or make an appointment⎯we'll handle the rest.
You have an outdated operating system
If your laptop isn't running the latest version of the macOS® operating system (OS), it can slow down your computer. So the next time you get a notification about a new OS version, finish the process. In the meantime, here's how to manually check for software updates:
Make sure your computer is connected to power.
Click the Apple menu > System Preferences > Software Update, or scroll down in the list and choose General, then click Software Update.
If an update is available, click Upgrade Now.
On macOS Monterey 12 and Big Sur 11.0, you can also click the Apple menu and, if there are any updates available, the number will appear next to System Preferences. To continue, choose System Preferences.
On macOS Catalina 10.15 and Mojave 10.14, you can also click the Apple menu > About This Mac > Software Update.
You're using too much processing power
A MacBook running slowly could be because certain apps require a large amount of processing power (also called CPU load), which blocks other tasks from running smoothly. You can find out what's causing the problem by opening the Activity Monitor, which is the Mac task manager, then following these steps:
Click Finder® in the dock (the icon looks like a smiling face that's blue on one side, white on the other).
In the Finder window, click Applications on the left, then scroll down and click Utilities.
Double-click Activity Monitor.
Click the CPU tab at the top of the window.
Click the % CPU column to see all the processes organized by how much processing power they're using. The list will change quickly, so watch it for a minute or two, paying attention to what's at the top of the list. Those are the ones using the most processing power and slowing down your Mac.
To force quit the processes that consume the most resources, double click on the item, then select Quit in the pop-up window.
If this sounds too complicated, bring your computer to a MacBook repair expert for help.
Your startup disk is full
A good rule for computers is to always keep 5% to 20% of free storage to make your device run smoothly. When you store lots of photos, documents, music, and other files on your hard drive, your MacBook will slow as you near the storage limit.
To find out how much storage you have left on your MacBook:
Click the Apple menu > About This Mac > Storage.
After a moment, you'll see a stacked bar graph showing how much space you're using across different categories (for example, Photos, Messages, Apps, and macOS). Directly above that, you'll see how much space remains on the hard drive.
Click Manage to see recommendations for freeing up space on your disk. For example, you can set the trash to empty automatically, move your photos, files, and messages to iCloud® or sift through files and documents on your MacBook and choose what to permanently delete.
You have too many apps running
Your MacBook can handle many tasks at once. But if you're video conferencing with colleagues, listening to music on Spotify®, revising documents in Microsoft Word®, or combing through dozens of web pages—all while leaving apps open—you may be slowing down your computer.
To close apps and tabs, look at the toolbar on the bottom of your screen. You'll see icons for many of the apps on your computer. If you see a small dot underneath an app, that means it's currently open. To close it, right-click the app, then choose Quit.
You're running too many programs when you start your computer
When you have too many programs running at the same time when you start your MacBook, it can slow down your device. Here's how to check your startup items list—and remove any you don't need.
Go to System Preferences > Users & Groups.
Choose your account name in the left sidebar.
Click Login Items.
Select the items you no longer wish to load at startup and remove them by clicking the minus (-) button.
You don't have enough RAM
RAM is your computer's short-term memory. It allows your MacBook to quickly access information it needs without working too hard. RAM isn't saved forever—the data clears whenever you turn off your laptop. But when it fills up, your computer will run slowly. To learn more, read our guide to how much memory you need on your laptop.
To check how much RAM your computer has, follow these steps:
Click the Apple icon in the upper-left corner, then choose About This Mac.
In the pop-up window, you'll see a shortlist of specs. Look for the number listed next to Memory. That's how much RAM your computer has.
To see whether your RAM is full on your Mac:
Click Finder in the dock (the icon looks like a smiling face that's blue on one side, white on the other).
Click Applications on the left, scroll down, and then click Utilities.
Double-click Activity Monitor.
Go to the Memory tab. At the bottom-left of the page, you'll see the Memory Pressure graph. If it's green, you have lots of RAM left. Yellow means you're running low, and red means your RAM is nearly or completely full.
If your graph is yellow and you haven't updated your OS, do so, then check the Activity Monitor again—it may turn green after the update.
You can free up some RAM by quitting apps. If you've had your MacBook for more than 2 years, it may be time to either increase the RAM or invest in a new device. (Some computers have upgradable RAM, but others don't.)
Updating RAM on a laptop can be tricky. Visit your nearest uBreakiFix® by Asurion or Asurion Tech Repair & Solutions™ store and our experts can help you figure out your best next step.
Your desktop is cluttered
Having too many files saved on the desktop—especially large ones—can slow down your computer. To delete any desktop files you no longer need, follow these steps:
Identify the file(s) you want to delete and drag them into the Trash, located in the Dock.
To empty one item from the Trash, click the Trash icon so that it opens in a new window. Control-click the item you want to get rid of, choose Delete Immediately, then click Delete.
To empty all items in the Trash, click and hold the Trash icon in the Dock, then select Empty Trash.
To set your computer to automatically empty the Trash after 30 days:
Click the Finder icon on the home screen of your Mac.
Choose Preferences, then click Advanced.
Select Remove items from the Trash after 30 days.
You have a virus or another form of malicious software
Macs don't get viruses as often as PCs, but it can still happen. When it does, your computer can slow down as a result. For more information on how to tell whether your MacBook has a virus—and what to do about it—read our guide to getting rid of a computer virus.
Nothing ruins productivity like a laptop breakdown
With an Asurion Home+® protection plan, you can keep your downtime to a minimum. This one simple plan covers thousands of eligible devices in your home—from TVs and tablets to smart thermostats and locks—plus provides 24/7 live support from trusted experts for your tech questions. To learn more about laptop protection plans, visit asurion.com/homeplus/.