The holidays are a magical time of year filled with family reunions, gift-giving, and bountiful meals shared with loved ones. Unfortunately, there is a lot of planning, prep, and chaos that comes along with the holidays that aren't so merry and bright. Well just like a certain red-nosed reindeer, Asurion Experts are here to guide you through a smooth holiday season. With a little help from some easy-to-use smart devices, we'll break down everything you need to automate your least favorite holiday season activities.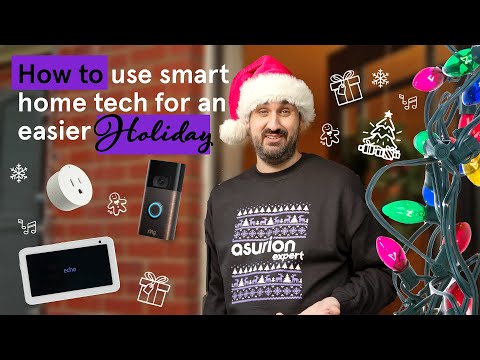 Automate your holiday lights with smart plugs
Lights are a classic staple of the holidays. Between the outdoor displays, Christmas trees, and everything in between, that's a lot of cords to keep track of. If you're tired of crawling under the tree to unplug and replug your lights, it's time to add smart plugs to your wish list. Smart plugs allow you to control almost any wired home device with the touch of a button on your smartphone or using a voice command through your home assistant, like your Google Home or Amazon Echo. To set one up, simply plug it into an outlet, download the compatible app listed in the instructions, and follow the directions. Once you plug your holiday lights into the smart plug, you'll be able to control it through your app or by setting up a voice command like "Hey Google, turn on the tree lights."
How to put your Christmas lights on a timer
Smart plugs don't just make your house cooler, they're good for your budget too! Use them to set on-off schedules for your holiday lights and appliances so they're not wasting energy. To set a Christmas light timer, plug your Christmas lights into a smart plug and schedule a routine using your smart assistant.
Smart plugs can also keep your home safe from fire hazards. Ever second-guessed if you left your tree lights or curling iron on? Keeping potential fire hazards plugged into smart plugs allows you to make certain from anywhere with Wi-Fi that your home is safe.
Timing your Christmas lights is just the start of the possibilities for smart plugs—check out our guide to the best ways to use smart plugs in your home for more ideas.
Sync your Christmas lights to music
If you want to create the perfect festive ambiance in your home, the key is using smart lights to sync your Christmas lights to music. Smart lights come in all shapes and sizes, just like regular bulbs. You can get individual bulbs like Philips Hue smart bulbs or strips of LED lights. Each manufacturer will have different instructions for setting up and syncing your smart lights, but each should allow you to designate the lights you'd like to control and sync them to your choice of music. Check out this video on Asurion's YouTube channel for expert guidance:
Interested in learning more about automated lights? Check out our experts' picks for the 3 coolest things you can do with smart lights.
Need a hand with holiday cooking?
Your smart home hub can help. Holiday meals are some of our greatest family traditions, and the stakes can be high. Between the planning, grocery shopping, organizing recipes, not to mention the actual cooking, it's a lot of work. Let your smart home hub help take some of the pressure off with these commands:
"Hey ___, add nutmeg and whipped cream to my Alexa shopping list."
Baking and cooking can get messy, but you don't have to reach for a pen and paper with the help of your smart home hub. Your virtual assistant can help you make shopping and to-do lists that you'll be able to reference later on your phone. They can also remind you what's already on your list too.
"Hey ___, how many tablespoons are in a cup?"
Pausing to look up a conversion could mean the difference between fluffy or gummy mashed potatoes. Use your virtual assistant instead to get answers to all your urgent cooking questions without having to look away from the stove.
Hey ___, find me a recipe for sweet potato casserole."
When you're juggling multiple burners and oven racks, the last thing you want to do is lose track of your recipes. Ask your smart home hub to show and read your favorite recipes to you. You'll be able to hear each step out loud, and you can ask it to repeat or skip, or find an alternative if you're out of a certain ingredient.
Prevent porch thieves with a video doorbell
Picking out the perfect gift for everyone on your shopping list is hard enough without those gifts being stolen off your porch. The best way to dissuade or catch porch pirates in their tracks is to install a video doorbell. Video doorbells, like Ring or the Google Nest Doorbell, allow you to see in real-time what is happening outside your front door. You can watch the video feed through the connected app on your smartphone, or even view your Ring doorbell on your TV. You can also use the speaker feature to talk to delivery drivers or let someone know that you can see them.
Traveling for the holidays? Smart security cameras can keep an eye on your home
The last thing you want to worry about during holiday traveling is the safety of your home. Give yourself some peace of mind by investing in some smart security cameras. With well-placed cameras around the outside and inside of your home, you'll be able to keep an eye on your pets, packages arriving, and all other areas of your home. There are all kinds of smart security cameras and choosing the one that's best for you can be overwhelming, but our experts have a guide to everything you need to know about smart security cameras.
Make sure your home tech is protected
Protect the devices your family receives this holiday season with one simple plan that covers all your favorite home tech. With Asurion Home+, we cover your computers, TVs, tablets, premium headphones, smart devices, and so much more—plus, 24/7 assistance for your whole family with any tech care need—for less than $1/day. Learn more about Asurion Home+ coverage and how you can get peace-of-mind device protection.