Buying a new home can be stressful, and your to-do list can feel endless. Take security, for instance. Whether you live alone or have a family, it should be high up on your list. But where do you even start?
Today's smart home systems offer peace of mind. Picking one, however, can be confusing—maybe even intimidating—because there are so many gadgets and services around.
That's where we come in. At Asurion, we make tech easy. Here's everything you need to know about smart home security systems.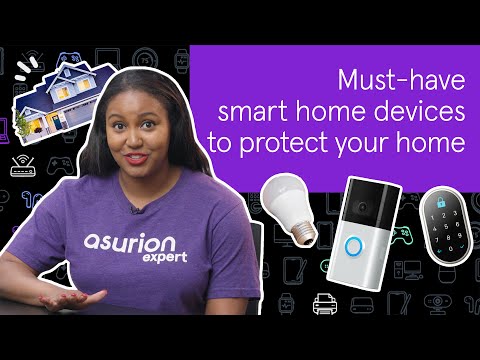 What are smart home security systems and how do they work?
A home security system is more than just a collection of individual alarms, locks, or cameras. It's an interconnected set of electronic devices that work together to protect your home. Security packages can be simple and include just a few devices, or you could go for a more advanced setup. That extra protection could mean a device on your door that locks it automatically, a light that comes on outside to shoo away potential intruders, or a sensor on your windows that alerts you when someone breaks the glass.
What are the basic devices that make up a smart home security system?
When you get a smart home security kit, a few devices tend to be a part of the package. They include:
Motion sensors. Place these devices in the entryway or hallway of your home, and they'll detect intruders.
Entry sensor. Want to know if a door is open or closed? These sensors will do the trick.
Keypad. Place one on a wall by your door and punch in a simple, easy-to-remember code to arm or disarm your system from inside.
Key fob. These devices let you easily arm and disarm your system from your keychain when you're on the go.
What are other devices you can add to your system?
One of the great things about smart security systems is that they are meant to work with the smart home devices you might already have. If you own the Amazon Echo™ Show 10 or Google Nest Hub Max™, for instance, you may be able to control your security with simple voice commands.
Other popular add-ons include:
Window sensors. Worried about someone coming in through your windows? These sensors will alert you when a window opens and closes.
Glass break sensors. Some thieves try and get around window sensors by breaking the glass, but these sensors listen for the sound of shattering glass to guard against it.
Smart locks. Forget ordinary keys. These devices let you lock your door with an app or voice command anytime, anywhere.
Smart doorbell cameras. Keep track of your entrance ways—and your packages—with these handy devices.
Smart smoke and carbon monoxide detectors. Sometimes it's what you can't see that's the most dangerous. These detectors link to your overall smart home system, allowing it to alert you—or the proper authorities—if smoke or carbon dioxide is present.
Smart outdoor lighting. Whether you're trying to scare away raccoons, ward off strangers, or just make it easier to walk up your driveway in the dark, these lights automatically turn on when they sense motion.
Smart outdoor cameras. Angles are everything, and these devices pick up those that may be out of reach for your doorbell camera.
Calculate your smart devices, bust common myths, and explore tips from your neighborhood tech experts.
Types of smart home security systems
There are two types of smart home security systems: wired and wireless.
Wired. These tend to connect to your home through your landline or electrical system and require professional installation.
Wireless. These connect via Wi-Fi, and you can often install them yourself.
Are smart home security systems hard to install?
Not the wireless ones. They're designed to be simple enough for anyone to connect, but if you're having trouble with a particular device, you can reach out to a pro for help—learn more about smart home installation.
Are wireless smart home security systems safe and reliable?
Yes. Most professionally installed systems are connected to your landline or electrical systems. Wireless systems instead use your Wi-Fi network to communicate. Both have backup systems to make sure your alarm continues to function if there's a service outage.
Why choose wireless vs wired?
Going wired tends to be more expensive and may require electrical know-how, so getting in touch with a professional may be your best bet. Wireless systems are typically easier to install and usually cheaper, but you usually have to do some of the work yourself.
What happens when Wi-Fi goes out?
Home security systems communicate with a monitoring center via a landline phone, internet, or cellular connection. But if an outage does knock out your Wi-Fi, most smart home systems use cellular data as a backup to keep everything running.
Should you be worried about what happens to your data?
Privacy is important, especially when it comes to your personal information. The good news is that smart home security systems give you a good degree of control over it.
Most systems tend to store your security camera footage in the cloud, which you can protect by making sure you have a strong password, using two-factor authentication, and other security measures. These systems let you store security footage for a limited time and download it from an app or website. Learn more in our guide to keeping data in the cloud secure.
Some home security systems do automatically share their data with the police, but only in extreme cases, like major crimes. If you're nervous about having any information in the cloud, there are some cameras and systems that let you store your footage using a digital video recorder (DVR) or a memory card.
How hard is it to hack the system?
Like any device connected to the internet, a wireless smart home security system can be hacked. There are some simple steps you can take to protect yourself—check out our tips for keeping your smart home safe from hackers. With a little know-how, you can minimize the risk.
How do you pick the smart home security system that's right for you?
Choosing the right system for you comes down to a matter of needs and preferences. Here are some factors worth considering.
Price. What's the most you're willing to pay upfront for a system? And if you want a monitoring service, what's your monthly budget? Home security kits can start at about $150 with monitoring services coming in at around $18 per month.
Simplicity. How much effort does installing the system require? Or is it worth it for someone to do it for you?
Customization. Do you have a ton of windows in your child's bedroom? Will your pets set off motion sensors? Everyone has different needs, and some systems are easier to customize than others. Think about what gadgets will work best for you, and see what each system has to offer.
What are some of the best smart home security systems?
The best smart home security system often depends on your needs and preferences. Some popular brands include SimpliSafe®, Vivint®, Ring®, Google Nest®, and ADT®. Along with 24/7 monitoring services, they offer basic smart home security items and add-on devices for your system.
What are some tips and tricks for smart home security systems?
Get your family involved
Your family's safety shouldn't fall on one person. It's important to teach everyone how to use the system in case of an emergency or if the alarm accidentally goes off.
Download the app
You're more likely to remember your phone than you are to arm your security system when you leave. If your security system comes with a downloadable app, use it.
Consider a virtual assistant
Tying your smart security system to your smart home hub makes accessing footage and even arming or disarming your system easier. There are many security systems that work with virtual assistants like Amazon Alexa™ and Google Assistant™, which let your system work seamlessly with an app or simple voice commands.
Make sure your smart home is protected
An Asurion Home+® protection plan provides coverage for nearly all the technology in your home with one simple plan. Laptops, tablets, TVs, gaming consoles, smart thermostats, and so much more—even future purchases. Plus, you'll get 24/7 live expert support and robust digital security. Learn more about Asurion Home+® coverage and how you can get peace-of-mind electronics protection.