From multiplayer games to online classes, screens are central to our children's lives. A 2022 Pew Research Center study, for instance, found that nearly half of teens say they use the internet "almost constantly." Meanwhile, kids 8 and younger consume nearly 2.5 hours of media a day, according to a 2020 report from the education and advocacy nonprofit Common Sense Media. For 5- to 8-year-olds, much of this screen time occurs without adult oversight.
For parents, knowing how to handle their child's internet use can be nerve-racking. There are so many problems to look out for: cyberbullies, online predators, data brokers, and marketers trying to make money on your kids' digital lives.
That's where we can help. At Asurion, our experts not only fix and protect your tech, but also work with you to make sure you know how to kid-proof their devices. Here's what they recommend.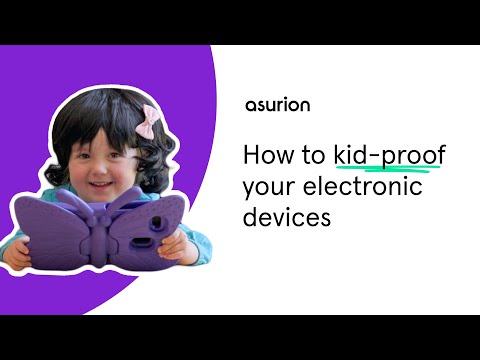 Erase your personal information on an old device
Lots of families choose to give an old smartphone or tablet to their kids when they're ready. Before you do so, make sure to back up your device, then wipe it clean. That way your kids can't access your social media accounts, streaming logins, or photos.
Don't know how? Check out our guides to backing up your phone and backing up your tablet, as well as how to reset your device (iPhone, Android, iPad, Amazon Fire tablet or Samsung Galaxy tablet).
Create restricted profiles and accounts for your children
Sharing your account with your kids will give them access to your personal information. Instead, create a separate account for them. If your child is under 13, parents and guardians must sign them up for an Apple® ID or Google® Account.
Use parental controls
Setting up parental controls puts you in charge of what your child does on their device and how much time they spend on it. Free apps like Apple Screen Time and Google Family Link let you track usage, block inappropriate and disturbing content, decide what your child downloads, and restrict screen time. You can even lock their device at any time.
Just remember, parental controls aren't perfect. Kids have been known to hack them, and filters sometimes miss content you might not want your children to see.
The devices we love aren't cheap. Protect them with Asurion Home+.
We'll cover your favorite home tech plus provide 24/7 live support, all for less than $1 per day.
Prevent your child from using apps to buy anything
In addition to putting parental controls on the device, you can also prevent your child's ability to buy anything using apps, from extra lives in their favorite game to a subscription you don't want.
On an Android, you can go to the Settings in the Google Play™ Store to require your approval any time your kid tries to make a purchase using an app.
Apple lets you set a password for purchases, prevent specific kinds, or turn them off completely. You can access these controls via Screen Time or your Family Sharing group. If your child uses your device, you can simply require a passcode before buying anything—then make sure only you know what it is.
Prevent your child from sharing where they are online
If you don't want your child sharing where they are on social media, other apps, or the web in general, turn off location services on their device. For step-by-step instructions, read our guides to turning off the Find My™ feature on your Apple device and Find My Device™ on your Android™. Keep in mind, turning off this setting means you won't be able to keep tabs on your child's whereabouts, so you may want to adjust the settings so that only certain apps, like Google Maps, can access location.
Use a child-friendly web browser
Worried about what your children might find online? Child-friendly web browsers are the closest parents will get to a best friend online—they let kids surf the internet while limiting search results and filtering out content that's not appropriate. There are a lot of options out there—just search "child friendly browser" on Google®—but make sure to read up on each one to figure out which browser best meets your needs. For more on this topic, read our guide to parental control apps that help with learning.
Restrict the use of certain apps
No matter what device your child is using, you can require a password on most apps or hide them from view. The app Android Kids Mode, for example, lets you lock apps, set app-specific time limits, control website access, and more. On Apple devices, you can hide certain apps from view via a setting called Content & Privacy Restrictions. For more details on those steps and more, read our guide to setting up an iPad® for your child.
Create strong passwords that all parents have access to
Unique, complex passwords are the key to online security. They protect your most sensitive information, including email, credit card payments, online shopping, and banking. When setting up your child's device, make sure they have strong passwords—and be sure you know what they are. For detailed instructions on how to create strong passwords for your kids' devices, read our guide to creating strong passwords. To help you keep track of them, here are our favorite password managers.
Pay attention to what your kids are doing
Kid-proofing your child's tech makes a difference, but there's no replacement for human interaction. Turn a new tech device into a teachable moment by talking with your child about online safety and screen etiquette, and review ground rules, including:
Don't share personal information online.
Don't follow or friend anyone you don't know.
Keep in-game chats about the game.
Tech is expensive. Protect it all.
Protect the devices your family loves and relies on with one simple plan. With Asurion Home+®, we cover your computers, TVs, tablets, premium headphones, smart devices, and so much more—plus, 24/7 live support for your tech care needs—for less than $1 per day. Learn more about Asurion Home+® coverage and how you can get peace-of-mind electronics protection.