Whether you want to improve your Airbnb listing or you're hosting for the first time, smart home devices can save you stress, make guests feel more comfortable, and help you rise above the competition.
If you're new to creating a connected home, strong, reliable Wi-Fi is the first place to start, but beyond that, what are the best smart home devices for Airbnb owners? We've got it covered.
At Asurion, we take care of you—and your tech. Here are 8 smart devices every host should have.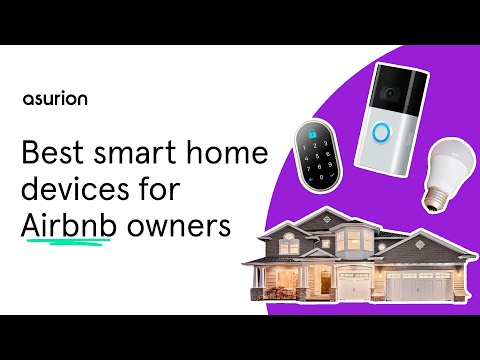 1. Smart locks
Arguably the biggest logistical challenge to being an Airbnb host is figuring out how to easily—and safely—hand over keys to your guests. That's where smart locks come in. They're wireless devices that let you lock or unlock your door using a keypad or smartphone app instead of a traditional key. By connecting to Wi-Fi, Bluetooth®, or Z-Wave®, smart locks let you create temporary passcodes and set up alerts for when a door is locked or unlocked.
As an Airbnb host, going keyless just makes sense. Physical keys can get lost, guests can copy them at a hardware store, and it can be tricky to coordinate a manual key exchange if you're out of town or guests arrive late at night.
Smart locks are also incredibly safe. They can generate a digital key for each booking, so that when guests check out, theirs automatically expires. You can then create a separate digital key for a housecleaner that same day. If your guests are having trouble getting in, you can unlock the door remotely. If a door is left unlocked—or someone tries to break in—you'll get alerts immediately.
Have questions? Check out our guides to smart lock safety and everything you need to know before buying smart locks.
The devices we love aren't cheap. Protect them with Asurion Home+.
We'll cover your favorite home tech plus provide 24/7 live support, all for less than $1 per day.
2. A video doorbell
A smart doorbell lets you keep track of who's coming and going from your home. Concerned your weekend guests might invite a dozen friends over for a party? Wondering whether they're sneaking a dog into your pet-free home? A smart doorbell not only lets you know when someone is at your door, but it lets you check in via video and talk with that person through the doorbell's app on your phone. Thanks to built-in motion sensors, video doorbells also record short clips when someone approaches your home and let you monitor your doorstep live.
Video doorbells won't violate Airbnb policies or your guests' privacy because they're located outside and point away from your house. You'll just need to disclose all video doorbells in your home when you list it on Airbnb. Make sure you read the Airbnb camera and recording device policies to understand what is and isn't allowed.
Not sure which video doorbell to get or how to set it up? Check out our step-by-step guide on how to DIY a video doorbell installation.
3. A smart thermostat
A smart thermostat helps you conserve energy and save money by automating the heating and cooling in your home—all from the convenience of your phone. For Airbnb rentals, a smart thermostat puts your guests in charge of the climate during their stay. Then, when they check out, you can adjust the temperature until new guests arrive, ensuring you aren't heating or cooling an empty house for days or weeks at a time. For the average American household, smart thermostats lower their heating and cooling bills by approximately 8% (or $50) a year, according to the Environmental Protection Agency (EPA). But you could save a lot more depending on where you're located, how many guests you typically have, how hot or cold you keep your home, and what kind of heating and cooling equipment you own. If you're interested in upgrading, here's what you need to know before switching to a smart thermostat.
4. Smart smoke and carbon monoxide detectors
There's a smart way to fend off disaster. Smart smoke and carbon monoxide detectors not only sound loud alarms and flashlights when they detect smoke or carbon monoxide in your home. They also instantly alert you on your phone—and call the appropriate authorities if you need help right away. Just make sure you're familiar with Airbnb rules and choose a smart device that applies.
5. Smart speakers
Give your guests top-notch sound by installing smart speakers. Some, like Sonos® speakers, are coveted for their sound quality, whereas others, like the Amazon Echo™ Studio, feature great sound while at the same time pairing seamlessly with virtual assistants, like Alexa™, Google Assistant™, and Siri®. Adding a smart speaker makes it easy for your guests to control other smart tech around your home. Plus they can ask Google Assistant, Siri, or Alexa to look up the weather forecast, find a local coffee shop, or play the set list from Taylor Swift's Eras Tour.
6. Smart lights
Another way to make your Airbnb more user-friendly and energy-efficient is to use smart lights. Wi-Fi connected smart bulbs use less energy than traditional bulbs. They also let you control your lighting from anywhere and set up schedules for your home. Smart lights brighten a dark walkway up to your house, add color and mood to an outdoor space, and best of all, they can automatically turn off when people go inside. And if your guests forget to turn off the lights before checking out, you can turn them off remotely.
Intrigued? Here's our guide to smart lights.
7. Smart TV
Want your guests to really feel at home? Make it easy for them to watch their favorite TV series and pick up right where they left off. By connecting to the internet, a smart television lets your guests access their own streaming services (like Netflix® and Hulu®), on-demand video rentals (like Google Play™), and internet music stations (like Spotify®). They can also connect their laptop or smartphone to your smart TV to show photos.
If you're not sure where to start, here's our advice on what to look for when buying a new smart TV.
8. Smart motion sensors
If you want to restrict guests' access to certain parts of your home, like the basement or an office where you keep your personal files, connected motion detectors will tell you if someone wanders into an area that's off limits. Keep in mind, you'll have to disclose the motion sensors in your listing (just as you do with security cameras), so take a look at relevant Airbnb policies before installing them.
To learn more about turning your house into a smart home, read our guide to the top smart home gadgets.
Tech is expensive. Protect it all.
Protect the devices your family loves and relies on with one simple plan. With Asurion Home+, we cover your computers, TVs, tablets, premium headphones, smart devices, and so much more—plus, 24/7 live support for your tech care needs—for less than $1 per day. Learn more about Asurion Home+ coverage and how you can get peace-of-mind electronics protection.